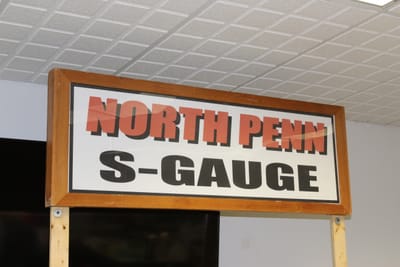 The North Penn S Gaugers club was established in March of 1998 to promote "S" gauge or 1/64 scale model railroading and to educate the public about the history and practice of "S" gauge model railroading within the meaning of section 501(c)(3) of the Internal Revenue Service code. The name of the organization is a fictitious name registered with the Pennsylvania Department of State Corporation Bureau on July 31, 2002.
The North Penn area was so named by the Reading Company Mainline from Philadelphia to Bethlehem. Our membership is primarily from Southeastern Pennsylvania. We are guiding members in building their layouts and promoting S scale products to the local community.
We welcome S scale modelers as well as American Flyer operators and collectors. Our members are in all facets of S gauge including scale, hi-rail, Sn3 and American Flyer collecting and operations.
We operate a portable modular S gauge layout for the enjoyment and education of the public several times a year at various public locations and model train shows. Modular construction of our portable layout allows our display layout to vary in size to fit any area from 10 x 14 feet to 24 x 34 feet.
In between external events a small version of our layout is kept operational in our club house for member's to enjoy. A train running session will be held after each meeting at the club house. Additional running may be requested by any member on week-ends and after 5:30 pm during the week.